Samarcanda adheres to the prices agreed by the municipality of Rome for the routes from within the Aurelian Walls to Fiumicino Airport (and vice versa) with a one-way fixed price of 50€.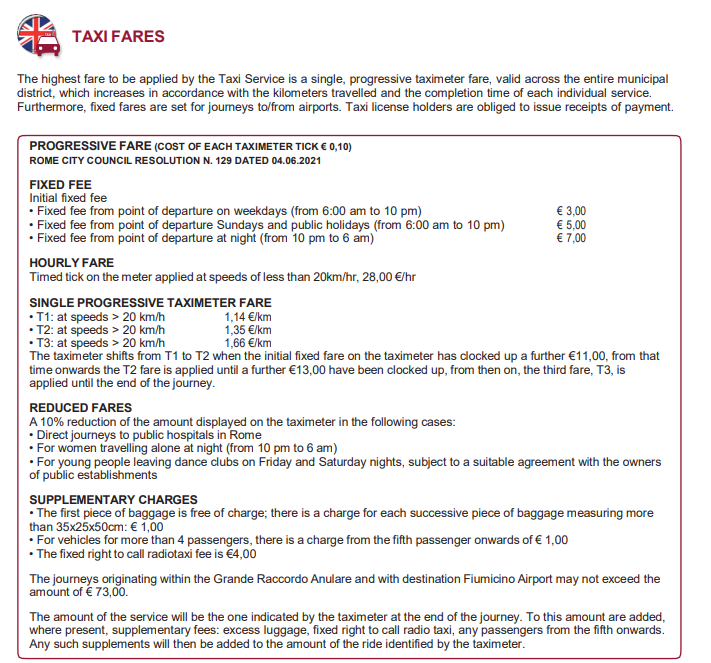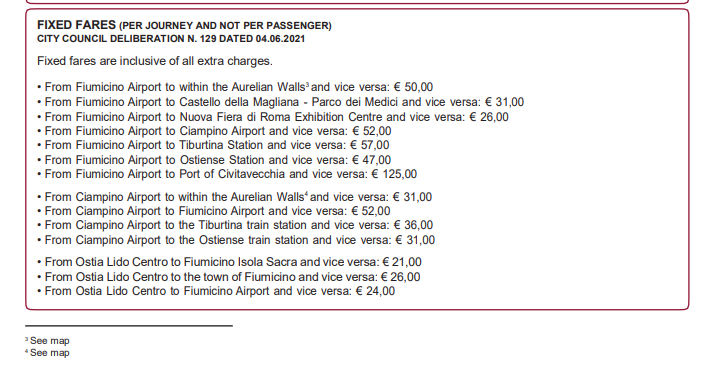 Below is the detail of the boundaries of the area called "Aurelian Walls", valid for the fixed one-way rates of 50 euros for trips to / from Fiumicino Airport and € 31 for taxi rides to / from Ciampino Airport. Prices are all inclusive and are intended for taxi transfer and not single passengers.
Aurelian walls area
Piazzale Flaminio, via Luisa di Savoia, Lungotevere A. da Brescia, Ponte Matteotti, Piazza delle Cinque Giornate, Viale delle Milizie, Largo Trionfale, Via A. Doria, Piazzale degli Eroi, via Vittori Pisani (da Piazza S. Maria delle grazie a Piazzale degli Eroi), Piazza S. Maria delle Grazie, Via Frà Albenzio, via Cipro, Via Anastasio II, via Gregorio VII fino a Piazza Pio XI (inclusa), Largo Jacobini, Via Valiero, Via San Evaristo, Via San Fabiano, via S. Damaso, via Sabiniano, Via S. Adeodato, Via S. Lucio, Via G. F. Albani, Via N. Piccolomini, via di Villa Betania, Via Aurelia Antica, Via di S. Pancrazio (fino a Largo Tre Giugno 1849), Piazzale Aurelio, Viale delle Mura Gianicolensi, Via G. Berchet, Viale A. Saffi, Largo Bernardino da Feltre, Viale delle Mura Portuensi, Piazzale Portuense, Piazza di Porta Portese, Ponte Sublicio, Lungotevere Testaccio (fino a Piazza dell'Emporio), Largo G. Battista Marzi, Ponte Testaccio, Piazzale Bottego, Viale del Campo Boario, Piazzale Ostiense, Piazza di Porta S. Paolo, Viale di Porta Ardeatina, Piazza Porta San Sebastiano, Via delle Mura Latine, Viale Metronio, Piazzale Metronio, Via Ipponio, Piazzale Ipponio, Via Sannio, Piazzale Appio, viale Castrense, via Casilina (fino al ponte di Viale Castrense), Piazzale Labicano, Piazza di Porta Maggiore, via Giolitti (fino a viale Manzoni), viale Manzoni, via Labicana, via del Colosseo, via dei Fori Imperiali, Piazza Venezia, via del Corso (inclusa), Piazza del Popolo, Piazzale Flaminio (escluso) viale del Muro Torto, Piazzale Brasile, Corso d'Italia, Piazza Fiume, Corso d'Italia, Piazzale di Porta Pia, Viale del Policlinico, Piazza della Croce Rossa, viale Castro Pretorio, viale Pretoriano, viale di Porta Tiburtina, Piazzale Tiburtino, via di Porta Labicana, sottovia in corrispondenza di Viale dello Scalo S. Lorenzo.